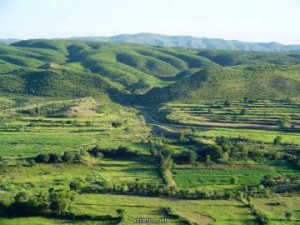 By Kaiser Tufail
Anyone wishing to drive through the valley is advised to either do so on a 4×4 vehicle or pray the pleasing scenery soothes your bones.
Returning after yet another weekend trip from our favourite getaway at Sakesar, my wife and I decided to try out a different route on the way back to Lahore. After a heavy downpour, the southbound road from Naushera to Khushab was badly inundated. We checked with some locals about the feasibility of an alternate route heading east to Kallar Kahar to get onto the motorway.
Three successive bystanders assure us that one the road is not bad, except for some repair work, two the road is as good as the other one and three the road is very good. All three comments spurred us to drive through the fabled Soon Valley that lies between Sakesar in the west till Padhrar in the east, a stretch of about 35 miles walled up all along by two ridges about 10 miles apart. What lies between the verdant ridges are striking hues of greens and browns with some shimmery silvers reflected from the beautiful lakes that dot this picturesque valley. 'Heavenly Bliss' got a new meaning as we drove through this little traversed stretch of the Salt Range.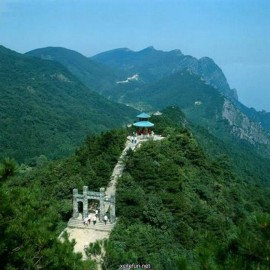 Soon Valley is the home of Awans as was evident from signboards at almost every shop in the small towns of Uchali, Naushera, Jabba and Padhrar. The house nameplates of the more well-to-do locals also display the superior title of Malik. A sign of the extravagant taste and affluence of some locals was evident from the concrete urials (wild sheep of the antelope sub-family) crafted to the most exacting proportions and colours that surmount the roofs of their houses. The real life urial has, unfortunately, been hunted to near extinction in the Salt Range, though conservation efforts claim to have arrested the declining numbers.
A few miles out of Naushera, just as we were discussing the merits of the bystanders' advice about the road conditions, we were jolted by tyres meeting crushed stone. It was the expected road repair work, of course, but we hoped to ride out the rumble in a short while, if the first comment had some truth in it.
Uchali Lake, part of the 3,000-acre Uchali Wetland Complex, could be seen to our left. The lake is bisected at the western edge by a road that was supposed to connect Uchali town with Chitta village, but remains incomplete due to shortage of funds. Sticking out like an ugly varicose vein over the lake's placid surface, the road was the brainchild of a local politician who thought that a shortcut through the lake would please the locals and bring in votes, while outrightly disregarding issues of environment and aesthetics. The lake is a birdwatcher's delight, being home to numerous varieties of aquatic birds, especially during the migratory winter months. White-headed Ducks, Greater Flamingos and a variety of grebes are a sample of these birds that can be found especially in this complex.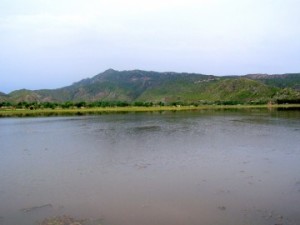 As we continued rumbling over the 'under repair' road, we checked with a passing motorcyclist who told us that the broken stretch would continue for another 15 kilometres. Mercifully, the pleasing scenery soothed our bones that were starting to get jarred. Little shepherd boys tending flocks of goats and sheep were a common sight. Even in small hamlets, children seemed oblivious to school life, which is a pity. Even though the roadside villages could see school buildings, attendance seemed less than satisfactory.
After covering 15 kilometres, there was still no sign of a proper road, so we flagged an oncoming pick-up truck to find out what the driver had to say. "15 kilometres more to Jabba and then you will be on a proper road," he surprised us, just when we thought the worst was over. Crest-fallen though we were, we slowly trudged along the broken stretch assuring ourselves that the beautiful countryside was, at least, worth the rough ride. Gradually, a large water body came into view which was Khabbeki Lake, the second in Soon Valley. Though much smaller than Uchali, it offers a more charming view since it runs along the roadside. Water birds could be clearly seen but are in small numbers compared to the winter migration season, when the lake is full of many kinds of ducks and flamingos.
As we drove on, we noted that there were no ugly billboards and hoardings to mar the scenery. However, stone quarrying and cutting have left some unsightly scars on the adjoining ridges and one is not sure if this activity is being undertaken lawfully. When one considers that the Salt Range is a geological wonder of Pakistan, it is heart- rending to see its priceless fossil-loaded specimens being ground up in the stone-crushing machines.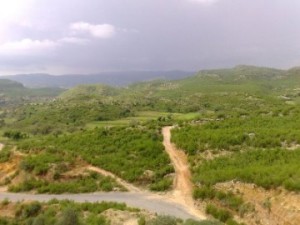 Earlier in the morning, we were lucky to have walked over a pathway on Sakesar top, which was littered with rocks bearing imprints of molluscs (a group of small sea animals). Studies show that these creatures lived in the Early Jurassic Era dating to 200 million years ago. Sediments bearing these dead creatures that were once on the seabed got uplifted, folded and buckled — in excruciatingly slow motion — to build mountains due to collisions of the underlying plates of the earth's crust. Subsequently, erosion of the mountains by the elements led to exposure of the fossils. Such are the ways of Nature that you get to observe in the open air museum of Soon Valley, much as in the Salt Range at large.
The fauna of Soon Valley is restricted to bushes and small trees including sanatha, phullai and kau (wild olive). The wood of the latter is quite hardy and finds use in ploughs, handles and walking sticks. It was no surprise to see a number of camps set up by enterprising Afghan refugees, stacked with heaps of kao wood. Womenfolk, in their brightly coloured ankle-length dresses, could be seen helping their tall, heavily turbaned men with loading lumber in the tractor-driven trolleys. We were left wondering if the local forest conservation authorities are aware of this activity, which, I am told, is prohibited in the area.
Having been on the broken road for two hours, we were delighted when a passer-by told us that Jabba was just 15 minutes away. The car's fuel warning light had come on and, with no fuel station in sight in the valley, we wanted to get to some worthwhile town at the earliest. As we drove on anxiously, we had a close call when we stalled in a puddle of slush and mud. Mercifully, my wife's 'dua' routine (that had been invoked at several critical junctures earlier) worked, and the wheels suddenly picked up some divinely sanctioned traction. We finally made it to Jabba from where the broken stretch ended and, much to our relief; we got to ride smoothly on a proper road once again.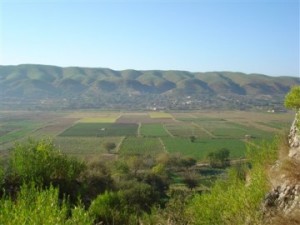 It had taken us two hours to cover just 25 km, but we were lucky to have been driving in a beautiful valley, enjoying its idyllic landscape, never mind the bumps and jerks. As with all good things that come to an end, the small town of Padhrar came into view around a bend in the road, and we bade farewell to Soon Valley.
Anyone wishing to drive through the valley would be well advised to either do so in a 4×4 vehicle or, wait for the road to be repaired fully, which is likely to take about a year or so, at least. A simple picnic with the family at the Uchali and Khabbeki Lakes or nature photography, bird-watching and study of rocks and fossils for the keener types, are some recommended activities. Whatever your preference, if you haven't had a good outing for a while, it is never too late for the Soon Valley!