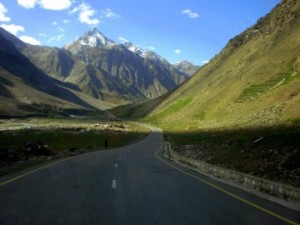 Author: Asad Mehmood
We, a group of 12, attempted for the Wakhan trek (Karambar Lake  and Darkot) starting on September 10, 2011. Members were: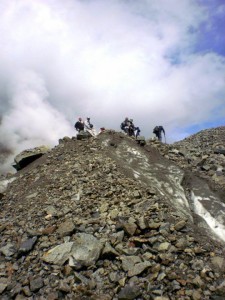 1- Muhammad Tanweer (Lahore) / Team lead.
2- Talat Saeed (Lahore)
3- Me (Asad Mehmood) (Islamabad)
4- Fahim Awan (Abbotabad)
5- Farhan Khan (Multan)
6- Zain Ul Abedin (Faisalabad)
7- Saeed (Faisalabad)
8- Zahid Ali (Karachi)
9- Muhammad Adeel (Karachi)
10- Adeel Akthar (Karachi)
11- Ameer Hamza (Karachi)
12- Danail Shah (Quetta)
There were first timers and last minute drop-out for this trek too.
The original plan was:
10th September Rawalpindi To Gilgit, on coaster via babusar pass.
11th September Night Stay At Gilgit, (Madina Hotel)
12th September Gilgit to Mitteran dan via Immit (Hiace / Jeep Ride)
13th September Mitteran dan to Wargoth (6~7 hours Trek)
14th September Wargoth to Sokhtra Abad (6 hours Trek)
15th September Sokhtra Abad To Swinj (7~8 hours Trek)
16th September Swinj to Karambar Lake 5 hours Trek)
17th September Around The Karambar
18th September Karambar to Lashker warz (7~8 hours Trek)
19th September Laskher waz to Chikar bc ( 7 Hours)
20th September Chikar to Darkot Base Camp (Fully Day Exertion)
21st September Darkot Base Camp to Rawat
22nd September Rawat To Gilgit (Jeep Ride)
23nd September Departure From Gilgit
24th September Arrival at Rawalpindi / Lahore
Journey on Bus
We started as per the schedule in a very pleasant weather. The weather prediction for the next 7 days was also clear.
Leaving FaizaAbad adda on the night of 10 September, with just 12 on board, on an 18 seater coaster, it looked very pleasant. With gup shap, we had our dinner near Manshera (hotel green hut). Picked Fahim from there and started of. Had some rest / sleep at paras near naran.
Had our lunch at basel (after Naran) and we crossed babusar pass at 11:00 AM on 11th sept. After that it was a long journey on KKH. A day before our departure a political parted called strike. + There was a land sliding before Raikot. We had to wait there for approx. 6 hours. Both (land slide / strike) contributed to result our journey from Islamabad to Gilgit in 31 hours- a delay of at least 7 hours.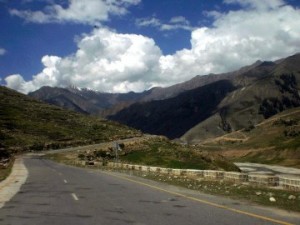 We reached Gilgit early morning 3:30 AM (September 12th), had long awaited sleep, but only for 4 hours, because we had to leave early the next morning. As we already informed our booked hotel there, so had no problem at that time of night.
Gilgit To Immit. (Toyota Hiace)
On hiace started of for Immit (Ishkomen valley), covering distance in approx 5 hours, (again had to wait due to land slide) before Immit , our hiace got out with the help of a tractor there, pushing it from the back.
Immit to MitramDan (Jeep)
Booked 3 jeeps from Immit. And started of for MitramdDan. Years back trek used to start from broth (between Immit and MitramDan) but now Jeep goes till MitramDan. Reached MitramDan around sun set. We stayed for night in a local school there. It took approx. 3 hours on jeep covering a distance of 17 km. hired our porters (5) / Guide from there the same night, had a good sleep and a dinner. The owner of jeeps was Abdul Hakeem. Our porters were Haibait Khan (cook), Bulbul Khan, Sarmad Khan, and 3 more.
MitramDan to Yasin Village (trek)
It was first day of our trekking, on a very pleasant weather and on a very smooth trek. Crossing nallah at few points. And wasn't tough. It was a gradual ascent of approx 300 m and distance of 9 km from MD to Yasin Vallige. We were scheduled to reach Wargoth but instead we decided to stay at yasin village. The reason was that our tents / other items were on donkeys. And they were late. It was already 3 afternoon and we were not able to see them. Donkeys with remaining porters reached before sunset, we established our tents/ kitched tents and enjoyed dinner. It was at night that the wind started to blow with a light shower.
Yasing Village to Sokhtra Abad
As we were behind our desired location, so we woke up very early the next morning. We were required to cover approx. 15 km and ascent of 350 m, crossing Wargoth glacier and the Shuttargurdan. It was a raining day. We started of, and because of rain it wasn't that pleasant journey / trek. We reached Wargoth and decided to have tea and a bit change of clothes / fire setup, as we were all wet.
At Wargoth porters informed that it won't be possible for donkeys to cross shutargurdan in this weather (rainy / slippery) with risk of rock fall (in rain only). This area, as described by a trekker last year, in his blog as:
"Shuttargurdan": . It is the name of the difficult mountain one has to cross with very narrow, steep and scary path. The original path used to go along with the river however in year 2007, glacier blocked the way of the river and there is no apparent way to cross it. One has to be very careful on this narrow path as any wrong step can take one down to thousands of feet down into the river. :: https://dashtnavard.wordpress.com/2010/11/14/along-the-wakhan-corridor/
It was already a stay of 3 + hours at Wargoth in a heavy rain, we were waiting there thinking what to do, that a group of Gujjar porters reached there, coming from Swinj, they informed that it's a 2nd day of a route they found via a part of chilinji glacier, thus bypassing shuttargurdan. However It involved: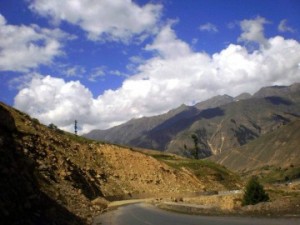 1- Crossing karamber nallah reaching as high as chest at 1 point.
2- Crossing a part of chilinji Glacier, also steep and a slip could result down into river.
3- But Saving time of approx. 3 hours compared to Shuttargurdan side.
My team decided to go with the shutargurdan. Porters had no option but to bypass shutargurdan.
Only I, after discussion with team decided to bypass shutargurdan. My reasons were:
1- Reaching Sokhtra Abad early and establishing tents, as we were already late.
2- I found my self good with water / crossing Nallah and never liked shuttargurdan.
3- No outsider since 2006 had by passed shuttargurdan and I had a chance.
We started off in rain, a minute later we crossed the nallah, one of our donkey couldn't hold his grip with water pressure and was pushed several feet in water. The items it carried were all wet and were down in water; 2-3 porters reached back and helped the poor donkey crossing the Nallah.
Unfortunately, there was no sign of sun; it was a bad day for trekking. We crossed a part of Chilinji Glacier. Due to rain it was a slippery trek and I slipped at few places.
I reached SokhtraAbad before sunset, established tents and requested cook for soup / dinners. All our items including sleeping bags were wet.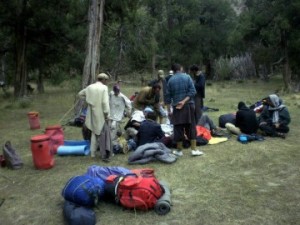 Team continued to reach one by one after sun set.
The last 2 member of my team along with a porter reached around 11 at that night.
Sokhtra Abad (Day 3) Forced Rest Day 1
It was a great camp site with a police check post and a masjid. The policemen there were very helpful. This is a grassy area with steep cliffs all around. With no sign of clear weather, it continued to rain all night. We woke up in hope of sun / to dry our items but in vain. The sun never showed up. All night it rained to such an extent that the water entered in our tents from it base.
Our fellows were not feeling well and I also had numbness in my right hand and feet due a fall the other day. We had no option but to avail a rest day in hope of clear weather.
Sokhtra Abad (Day 4) Forced Rest Day 2
It again continued to rain all night. Any time at night when I woke up for washroom or something, the harmonic sound of rain fall / thunder haunted me with the thought of dropping karomber lake. Early morning, we saw the surrounding mountains around SokhtraAbad, all covered with snow. We still had hope though.
Our chances of reaching karambar were fading. We had a group meeting. As we ran out of rest days. And could not afford that much rain further on trek.
The only chance left was to somehow reach karomber lake and come back via same route. We waited for one more day.
Sokhtra Abad (Day 5) Forced Rest Day 3 / Expedition Ends
The rain continued to play its role in a worst possible manner. It was again a rainy day.
All the local tribes from Swinj and karambar had already started descending. And showed up while crossing skhotraAbad, informing that its 3-4 feets snow on trek after chitiboui.
The bad weather had made some fellows / first timers really frustrated. It was hard for them to accept that it's over. Some tried to reach chittiboui too. but all were back in an hour or 2.
It was over.
I came back to MatramDan from sokhtraAbad that day. My other team fellows continued as per their pace and stayed at Wargoth the next night.Many tribes were returning down (from karomber / swinj / yasin village)
Some Gujjars were coming from swinj, carring some item on donkes, I never knew at that time that what is that. They were great people with knowledge of each and every area. It was a decent in rain / Nallah crossing / and the thought of not seeing Karomber lake made me sad.
Thinking that what ever Allah does is in the best interest of us all.
With dismal mood, I reached Immit that night. Later learned that all the areas included Gakookh / upper Gilgit had really bad weather all these days.
The locals opened their bad. They hunted Markhors the previous day. Its hunting is banned as it is included in the list of endangered species, but by the time I knew it was too late. Markhor is the national animal of Pakistan – a big goat found in these areas.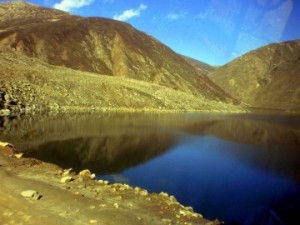 They cooked and invited me for the dinner. It was the most delicious dinner / meat I ever had. A life time opportunity. The thing about this trek that I will never forget.
Our team later dispersed at Immit, some planned to reach back to their home, 1 group went to Phanddar / Chitral, and 1 group towards hunza from Gilgit. I decided to reach back with a night stay at Gilgit.
For me, Karomber lake is a still a dream. somehow missed last year and missed this year too.
Lessons:
1- The weather in recent years has changed drastically. It can not be predicted and it may get worse any time.
2- Trekking is not a piece of comfort. At times you may not get food for a day or two. You may be asked to continue to move to reach proper camping site even exhausted.
3- It's important to have at least 2-3 group meet ups before trek, so that you get to know each other.
4- It's not only the success of reaching your destination that makes you satisfied. Failure to reach your destination should make to attempt next time / again and again, until you reach there.
I am ready to attempt for Karomber Lake from Chitral side soon (InshaAllah).
Please find the pictures of Wakhan trek here: http://www.facebook.com/media/set/?set=a.199733346762968.46192.100001789113564&l=60a665a64a&type=1