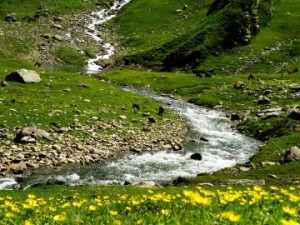 Post by: Muhammad Kashif
We a group of five people did Dwarian/Rattigali lake trek and Keran from 22-25th July.
Members: Waqas, Dabeer, Asad, Zahid and me (Kashif)
Bus Travel
Islamabad-Muzaffarabad
There are multiple options available for travelling to muzaffarabad. One is to travel from Skyways (Qadri travels). They run coaster service that is available every 30-60 minutes. The charges are Rs. 220/passenger. One can also go to muzaffarabad using hiace from Faizabad or Pirwadhai, they charge about Rs. 170/passenger. The travel time between Isb-Mzb is about 4hrs.
Muzaffarabad-Dwarian
There are not many options available for going to Dwarian. The only option is to travel through the bus. The bus can take you up to the Kel. The distance between Muzaffarabad to Dwarian is about 100Kms and the bus charges are Rs. 180/passenger. With the road conditions due to monsoon it took us about 9.5hrs to reach Dwarian.


The Trek
We reached Dwarian at 6AM in the morning. If one has to stay at Dwarian there are two rest houses of AJK government and a few hotels at Dwarian. Porters/guides were readily available at the bus stop. We got two porters cum guides from the stop at Rs. 500 per porter per day. We did our breakfast at a hotel in Dwarian and started out trekking at 7AM. This is a very beautiful trek with lush green forests and runs along a nullah of fresh water. We reached at domail (domail means a meeting point of two rivers or nullah, do-mail literally means two-meeting) around 5PM and camped there. Availability of drinking water is good as there are a lot of natural fountains in the trek. The trek is a gradual ascend from 1550 meters to 3150 meters (height of our camping site).
Next day we started our trek with daypacks towards the lake. It was an ascend of about 500meters to the lake and trek of about 1.30hrs. There are two lakes, one is small and exists due to the falling water of main lake and the other is a bit higher and is at altitude of 3650meters. A part of the main lake was snow covered.
From the lake one can trek to noori-naar top and descend to shardah via jeep, or trek to naran via ratti gali pass. There is another option of going to Kala-Sar (kala jheel, the name is due to the dark blue water of the lake) that is about 4-5hours trekking from the lake. To cover one of these options one has to have a knowledgeable guide/porter that knows the trek and has done it recently.
We descended back to our camping site, packed our camps and started descending back to Dwarian at 3PM. We reached at dwarian around 8.30PM and traveled back to Keran for camping. Keran is beautiful place to camp near the river bank. The river here is also LOC (line of control).
Note: at the start of the trek our information was like the first lake is Dwarian lake (that we visited) and the Ratti or Rattigali lake is about 4-5hours from dwarian lake. But from the porters and locals we got to know that the lake we visited has two names: Dwarian lake and Ratti or Rattigali lake.
The second lake is known as kala-sar that is about 4-5 hours from dwarian/ratti lake.
Some more Images of Ratti Gali Trek can be seen here: http://www.talashme.com/ratti-gali-trek-photos/